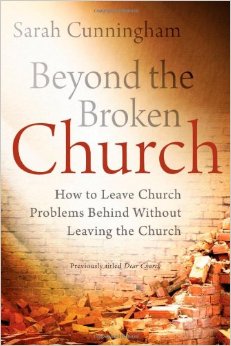 Non-fiction; Faith & Spirituality
Beyond the Broken Church
Originally published under the title Dear Church (2006); revised version with 30% new content released in 2014.
Summary of Contents
Beyond the Broken Church is a collection of heartfelt learnings from Sarah Cunningham, a young adult raised in the faith, about the church she's not always sure she wants to be part of.
The book engages concerns of a disillusioned generation head on and offers hope and honest, practical ideas for moving beyond one's frustrations.
In the end Beyond the Broken Church tells a story that will be familiar to many:  the journey of overcoming disillusionment and staying the course.
This revised and expanded version of the popular book Dear Church revisits the existing book with additional chapters, fresh statistics, new insights into why people are leaving the church, and a resource guide for those who care about the disillusioned and want to understand them better.  Beyond the Broken Church will be a breath of fresh air to others who have experienced frustration in church as well as an insider's guide for those seeking to understand current trends in church attendance, particularly among the younger generation.
The Letters

Includes 14 letters that explore how people become disillusioned with the church and how they can ultimately move through it.

Appendix A

Resources for the Disillusioned

Appendix B

Resources for pastors and church staff

Appendix C

Resources for Parents and Family Members
Appendix D

Resources for Parents and Family Members of the Disillusioned

Appendix E

Fifty Things About Forgiveness

Appendix F

Resources for learning more about disillusionment
ISBN: 978-0310336945
Paperback: 256 pages
Published: First Ed. 2006
Available in: English, Korean
Edition: First Edition
Publisher: Zondervan