When Your Childhood Friend Comes At You In Riot Gear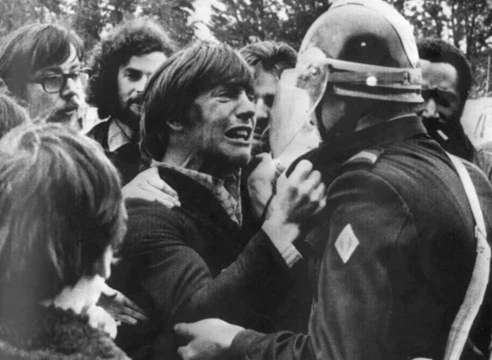 I love this photo.
Not because it's a brilliant candid shot of a protesting factory worker and a riot officer in a standoff. Although it is.
But because, like many moments in life, the backstory is just as poignant.
Take a minute to absorb the emotion on the striker's face.
We might assume his expression is triggered by heated emotions related to the protest. But it was more than that.  This is the moment the protestor recognized that the officer with the baton was his childhood friend.
True story. Long before Jacques Gourmelen took this photo on April 6, 1972 in Saint-Brieuc (France), the worker, Guy Burmieux, and the riot policeman, Jean-Yvon Antignac, had grown up together.  The two had gone to high school together. Partied together. One article called them "best friends." Guy himself is quoted as calling them "inseparable."
Guy recounted the moment:
"I was part of the core of rebellious workers…We spent the night there, drinking coffee upon coffee. In the morning, the atmosphere was electric. After the police officers, the anti-riot police, it was the officers of the [Compagnies Républicaines de Sécurité 13] which emerged suddenly. There I found Jean-Yvon!"
Here's how the photographer described the scene:
"Burniaux had recognized his old friend and classmate," The photographer once described the moment, "I saw him go toward his friend and grab him by the collar. He wept with rage and told him, 'Go ahead and hit me while you're at it!' The other one didn't move a muscle."
I study the photo more, contextualized by this back story. I see the pain mixed up in human eyes and clenched jaws. And my heart nods along.
I know this tension.
Often it is only those we truly love, who we have come to count on, who can trigger our most intense anger and disappointment.
Those we have loved long and deep often have unique power to hurt us.
But it's not just the relatability that gets to me. It's the aftermath of the photo.
After this landmark shot, here's what happened. The two friends got together and had a drink every Sunday morning at the local pub. The striker, Guy, even later trained the policeman's son to work in the factory.
That, of course, is why I love the story.
Two closely linked parties had a heated emotional clash. I suspect observers might've even suggested they were justified in severing their relationship. But whatever logic informed them, they decided instead to push past it, to keep meeting regularly, and to carry on as friends.
And while I know (and am often told) that such a strategy doesn't appeal to everyone, I want to notice and collect stories like this one anyways.
Because yeah, I get that sometimes breaking relationship is justified, and I get that sometimes persevering doesn't pay off.
But I'm making a conscious choice to bank stories like this in my heart. 
Maybe someday, there will come a day when I and others (or groups of others) face off. And when that day comes, I don't know for sure if it will help to dip into my soul's archives to retrieve some exceptional story like this. A story about how at least once, on some rare occasion, things did work out.
But who knows? Maybe that shred of optimism will be enough to help me rise to possibility. *Maybe* being armed with hope and wielding hope is exactly what nurtures hope sometimes. Maybe on some occasional day, in my own life's rare moments, I will help stir the exception.
I know it's only a maybe. But for me, that's what faith is. It's the substance of things hoped for. It's evidence of things unseen. It's belief in what **may be**.
You can read more about this story here (but you'll have to use a Google translator because it is in French).
5 Comments
Eileen

December 4, 2013 (1:54 pm)

I had never heard this story before. Beautiful! I like your reminder here. "But I'm making a conscious choice to bank stories like this in my heart." It really is a conscious choice. Thanks.

Thanks for reading, Eileen. Believe me. Some days I need all the inspiration I can get. :)

Isaac

May 23, 2020 (2:55 pm)

I cried for the duration of this article

Marcus

December 31, 2021 (2:42 am)

I was close to also

Marcus

December 31, 2021 (2:42 am)

I was close to also crying, just all the emotion in his face is so interesting.