About Me
Bio
Sarah Raymond Cunningham, M.Ed, is an author and researcher who has spent the last 18 years studying community and connectedness. A certified life coach and the author of 5 books, Sarah writes about social health for media outlets like The Huffington Post and Psych Central. She is also the President of the Mid-Michigan Chapter of Euphrates and a devoted fan of the heroic Flint water activists. (Learn more about Flint's ongoing crisis here.)
Meet Sarah
I'm all too often a student of The Hard Way. For most of my life, I've been too bold and too talkative for my own good. I'm not kidding. I've stumbled into a good half of what I know through trial and error.
In college, I got to spend two semesters living and studying in a homeless shelter in Chicago's south side. Not long after, I fell madly in love with the much smaller city of Jackson, Michigan–perhaps most famous for housing one of the largest prisons in the country.
I got completely and utterly disaffected by organized religion (but not God) in the process. For a good hot minute, I became connnnnsummmmmed with helping a large area church move outside the four walls of its building. I wanted more than anything to believe that an ordinary middle class, white church could build relationships with diverse and vulnerable people groups. The whole thing was a brutiful (brutal + beautiful) mess full of boldness and brokenness, crashing and burning, and grasping for God's hand.
Somehow, by some mix of grit and grace, some beautiful things came out of it all…like some lifelong relationships, this book, and a big life lesson in sucking it up and growing up.
Along the way (well, the very first day of college), I met my future husband, the quintessential high school coach who unfailingly stands behind me no matter what strange idea I set my heart on. Disaster Relief Trips to Ground Zero, live in teenagers, Water Advocacy, grad school, Neighborhood Facebook groups, book tours, being the only white people on our street, oh-and-a-psychologically-unwell-Jack-Russell-and-Brittany-Spaniel mix.
Seriously, this man has easily walked 1,000 miles to fall down at my door.
My husband is a high school teacher and a guidance counselor. And, along with him, I also spent 8 or 9 years teaching at-risk teens. They owned the social spectrum–they wrote quirky anime novels, dealt drugs, built cars from scratch, committed crimes that would scare the sleep out of you, became awe-inspiring teen moms…and some of them died far, far too young. I probably made a lot of mistakes along the way, but boy, did I ever love them. They taught me 92 times as much as I tried to teach them. And just by being their raw, real selves day in and day out, they convinced me that every person is their own kind of brave and beautiful.
From church to school, I wrote my first books. They were all about connections–connections between the church and society, between one generation and the next, between helpers and communities. I toured and spoke to people about the books. I met some beautiful people, but I never took to them like I took to being at home with my own little family.
Over time, I discovered I have a wildly under-developed introverted side. My closet fantasy is to be one of those eccentric, reclusive author-types who holes away in her room with a spiral notebook for weeks at a time. (Please just remember to slip some chocolate under the door from time to time.)
Seriously, I have to be straight up begged to leave home some days.
I carried all these experiences with me when I met my newest soulmates, two little messy-haired blond boys who've literally risked life and limb in the course of being my children. I tell them that I love them all day long. I've said it so many times that now I have to say, "I know I've never told you this before, but…" and they finish the sentence, "We know, Mom. You love us." Then I feign surprise. How did you guess?! I'd been keeping it a secret. It's a whole gushy-love thing.
About a year into having kids, I was hired as Chief Servant to the Emperor (my oldest son) and his Chief of Staff (his little brother, Mac). That's just a fancy way of saying I traded in my hyper-churchiness and my ruler and textbooks for a used pontoon boat with red pleather seats so I could work at home with my kids. We trekked out to lake country, where life is slower and the days are longer–the kind of sweet and sticky summer days you *want* to stretch out into consecutive forevers because kids grow up heartbreakingly fast. I bought a yellow shirt with a big number 5 on it and a bright red wig so I could be the April O'Neill to my kids' Leo and Donny. It was hands down the best career decision I ever made.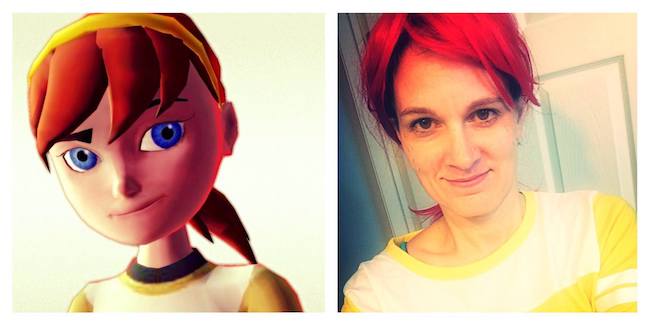 While glamorously sopping up spit-up and changing thousands of diapers, some inspiring people still let me moonlight in their work. I helped run national conferences and plan publishing campaigns. I met prominent activists, New York Times bestselling authors, mega church pastors, and an eccentric mix of celebs…only to decide that–write this down, people: Fame doesn't always look good on people. 
So I started to opt out of life on stage and stayed home so much. So, so much. For days at a time, the only adults I saw–outside my husband–were the teachers in the hallway at pick-up and drop-off. It was during this long stretch working from home that I read everything about social health I could get my hands on. I read on the pontoon, in the hammock, in front of the TV, while cooking dinner, in the bathtub. I read while drenched in the ordinary, profound busy-ness of life with kids.
This time working from home has been an unbelievably good, sweet leg of my journey and I have 90,000 photos to show for it.
But now…let met tell you about now. My little guy is prepping for full-time school in the fall, which means I'll be able to shift some time and energy back into my writing. So I recently sat down and reconfigured All Things Sarah.
When I put all the cards on the table and gave them a good, long look, I decided I am–far above everything else–a people lover through and through. At times, people have said–for good or bad–I function like I am Everybody's Sister. And in the end, that's sorta the best thing I can think up to do and be with my life.
As I ramp up for this next phase of me, I've been spending every waking minute of my non-existent free time interviewing 200 people about their friendships and experiences with community. Because all this trial and error all these years has helped me see that we have a connection crisis in our country. And one gift I'd love to give to the world my kids will grow up in is to help create ways to restore our sense of connectedness.
I'm still a person of faith…even all these years later. And I believe more than ever that God is in this work out in front of me. That He intended for us to live in connection to Him…and others.
That's become The Thing burning bright white hot in my soul for I don't know how many years now.
I've been talking about it, writing about it, talking about writing about it. But this is it. Some day is here. And I want you to be part of it. So please look around a little while you're here, join in my little online community, and come back as often as you like. Everybody is in, here. Absolutely everybody. We've got a lot of ground to cover and it's going to be such a good time.