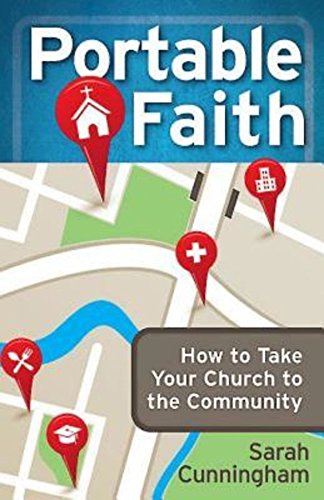 Church Leadership; Faith & Spirituality
Portable Faith
First published in 2013.
Summary of Contents
Portable Faith is a book of first steps for churches and leaders who hear God's call and are ready to follow..
Sarah Cunningham's insightful writing will first upturn your assumptions and lead you to critically evaluate your own perceptions about evangelism and outreach. She then offers a rich collection of practical, engaging, inexpensive exercises for small groups, individuals, or an entire congregation. Work through the exercises, and you'll be equipped to go out, to transform the strange new world beyond your church's doorstep.
Chapter One

The Origins of a Portable Faith

Chapter Two

Reflections on the Meaning of Church

Chapter Three

14 insights on Being the Portable Church
Chapter Four

How to Train the Portable Church

Exercises

30+ Exercises for Churches Who Want to Make Faith More Portable
ISBN:978-1426755156
Paperback: 172 pages
Published: First Ed. 2013
Available in: English
Edition: First Edition
Publisher: Abingdon