Community Stations: An Idea for Focusing on the People Who Share Your Community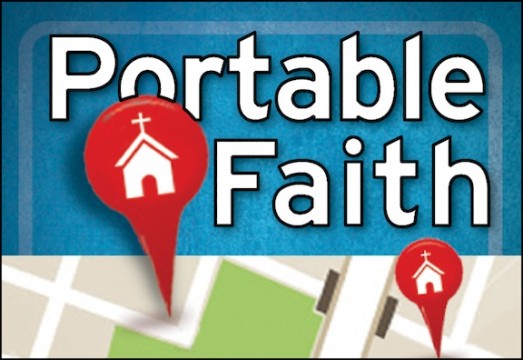 Rachel, a commenter on last week's Portable Faith post, reminded me of something:
All churches "get" that we are a gathering of people who live out faith rather than just a group of people who get together at a building one hour a week each Sunday.
But getting that on paper and living it out, as Rachel points out below, can be two very different things:

Here's an excerpt from the book where I realized we, as people of faith, sometimes default to designing church solely for the people already INSIDE the building.
The more I thought about the verbiage we lived out as churches, the more intensely I squinted at one of the core values of my own local church which proclaimed "All People Matter to God."
All people. Inside the church, outside the church. People like the majority, people unlike the majority. All of them.
I was sure in my soul this was right. That all people mattered to God. Though I wasn't sure churches always knew exactly how to demonstrate how much we, and our God, valued the residents of our communities.
In my own small city, estimates claimed …about 16 percent of residents were thought to have a regular connection to a local Christian congregation. Churches, of course, knew how to demonstrate this 16 percent mattered. We spent all week crafting sermon series, designing graphics, churning out bulletins, creating children's programming, and hosting events for the one out of six people who would be inside our buildings each week.
But was this 16 percent supposed to be the only or even main group we intentionally built relationship with? And what was the best way to divide our focus between the one out of six people who showed up on Sundays wanting to know Jesus and the five-sixths of our local "world" who we were specifically told to "go" to?
This of course is part of the timeless challenge the church or any institution faces. How do you rotate multiple priorities–church and community, coming and going, infrastructure and vitality–around the burners with enough regularity to keep every pan warm? Nevertheless, this challenge of learning to practice a more portable faith, individually and as a church, gripped me.
In Portable Faith (pick up the book here), there are 33 exercises aimed at raising awareness about the people who live in our communities and moving toward more connectedness with them. Last week, I highlighted one exercise aimed at forcing reflection on what it would be like to operate as a building-less church.
Another idea the book shares is using meeting time (i.e. Sunday mornings for most of us) as a time to reflect on the presence of those outside our building who share our communities.
One (of many) super simple ways you could do this?
A few times a year, create "community stations" in your sanctuary using tables displaying items like local newspapers, city phone books, photos, directories of school staff or city personnel, calendars and so forth. Then, during the service, invite people to these stations and ask them to spend a few minutes reflecting on or praying for the people and groups represented by the information.
The book then suggests:
Invite participants to take their newspaper page or other resource home and use it as a reminder to pray throughout the week. Also to build more awarness, suggest that in the future, when they look at a phonebook or a newspaper, the visual can be a reminder to live out faith beyond the church walls in their community.
How do you think church attenders would react to such an exercise if it were presented during a worship service? Is there another time or place (the lobby or a weeknight service) that might be more appropriate? Do you think this would be a helpful way of raising awareness about the church's embedded-ness within the community? What else do you do to keep your congregation's eyes turned outward?