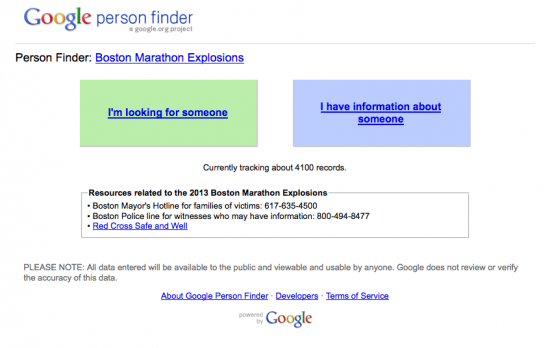 Boston…Lord have mercy.
I know even the most compassionate cliches often fall empty and trite in times of tragedy. Still, in the blasphemy of humans turning against each other, I'm still drawn to words of hope.
Love this quote from Fred Rogers, for instance (yes, I'm the only person on the planet who quotes Mr.Rogers and expects to be taken seriously):
When I was a boy and would see scary things in the news, my mother would say to me, "Look for the helpers. You will always find people who are helping…To this day, I am still comforted that there are still so many helpers, so many caring people in this world." Mr.Rogers
And this thought from my dear friend, Alece:
Prayers and tears for Boston… So thankful for those who run INTO harm's way when tragedy strikes. Love always runs toward, not away. – Alece Ronzino
And this one from Leonard Bernstein:
This will be our reply to violence: to make music more intensely, more beautifully, more devotedly than ever before. -Leonard Bernstein
I even love that as of right now, techno super giant Google is using its person finder to help loved ones track 4,000 people in Boston.
In my experience leading a disaster relief team at Ground Zero, it was often this, the corporate presence–ironically–that touched me most (since I viewed them mostly as arms of capitalism).
In tragedy, quite remarkably, we all mourn with those who mourn. We bear up the burdens of our fellow humans. And our species tiptoes into an uncommon space, a rare mutuality that seems to evaporate as soon as the tragedy passes from the headlines.
I always take hope though. Hope in a God who holds all. And hope that this time, and  each time, we'll resolve to remember this uncommon mutuality more than last.