I Love Nice People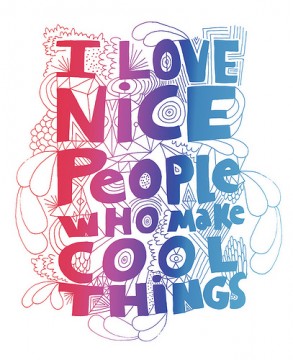 Want to create a media frenzy? Do something negative.
That's what researchers at Statistical Cybermetrics found in a recent study which showed online commenters are attracted to negative messages.
(When you recover from that "shock," continue on.)
Negativity also seems like the driving force of a church that keeps mobiliizing its congregation to PROTEST funerals. Their most recent strike? Friday's service commemorating Elizabeth Edward's life.
They're not protesting that she died, mind you, which is the only thing most funeral goers are mourning.
But they're showing up to publicly suggest that Edward's son's death and her own breast cancer were punishment from God.
Not exactly condolence as usual, ay?
But what happened next is kinda cool.
This guy named Ben Requena decided he wasn't having it.
Not a politician or church staff member, but a graphic designer, Ben decided to pull volunteers together through Facebook to create a human buffer between funeral-goers and the protesters.
Not because he knew Edwards. He didn't.
In fact, he doesn't see any connection between himself and Edwards.
Except that they were both human.
He told the Charlotte Observer, "It just seems like the right thing to do, to go out there and show support for human decency."
800 people agreed with Ben and joined him, not counting a second group calling themselves "Line of Love".
What about you? Blogging and tweeting up your negative energy? Or intentionally looking for ways to live as a buffer for others?
1 Comment
[…] I should follow the lead of people like graphic designer Ben Requena and take back grace for all my fellow humans–whether I know them or […]