Attention to Detail
I love those moments–on or off-stage–where little, seemingly unimportant bits of information spill into unrehearsed conversation. That's why I crafted this interview series that delights in the ordinary.
These interviews could've asked people to sound off on important topics–their pet causes, their own books, the abridged versions of their latest talks and so on. But I bet those are things you could find in sixty seconds of Googling.
So instead, I bring you un-transforming factoids about what influencers are watching on TV to remind you that all of us, notable or not, are quite similarly human.
So far, we heard from Brad Lomenick (of Catalyst) and Tim Soerens (of Inhabit), blogger Ron Edmondson and notable writer Cathleen Falsani, writer Jonathan Merritt and church leader exec Jenni Catron, conference and media influencer Scott McClellan and writer and blogger Doug Pagitt, theologian Scot McKnight and author Rebekah Lyons, Ed Cyzewski and Ron Hunter.
And today, I add to that two more friends.
[line]
Bruce Reyes Chow
Sarah: Okay Bruce, you're up! What are you reading?
Bruce: This month, my middle school daughter begged me to start The Maze Runner series. I have only just started the second book, but Think The Hunger Games meets 1984 meets The Lost Boys of Peter. Kids in peril . . . yeah, a real light read. I also finally finished a great book by Jeff Chang, Can't Stop Won't Stop: A History of the Hip-Hop Generation. It is dense, but a really good read.
Sarah: That may be–no wait it is–the most unique answer to the reading question I've had yet. Let's see what you can do with music. What's going on there?
Bruce: We are a spotify house. In heavy rotation, Bruno Mars, The Blue Scholars, Glee Cast Recordings and the Pitch Perfect Soundtrack. Did I mention that I have tweens/teens in my house . . . at least that's my excuse.
Sarah: And what are you watching…er, what are your teens making you watch?

Bruce: Our owned movie rotation: The Hunger Games, The Muppet Movie, Pitch Perfect and Wreck-It Ralph. As far as recent movies that we have seen in the theater or rented, "42" was not a great movie, but it was an important one and worth seeing. Finally got around to watching "The Perks of Being a Wallflower" and was throughly impressed.
TV is a little more diverse. I finished all of the "The Walking Dead" episodes on Netflix and our Hulu play list usually has us watching "Go On," "Modern Family" and recently, "Call the MidWife"
Sarah: Oh man. Call the midwife? Really? Please tell me that's not graphic. Okay, tell me where I might find Bruce Reyes-Chow on a map these days.
Bruce: Besides honing my chauffeuring skills to soccer games, auditions, girl scout meetings and other random social events, my daily stopping grounds – AKA Bruce's Offices – include San Francisco coffee house, Philz Coffee or Java on Ocean.
Sarah: Nice. Rent for a day for the price of a cup of coffee. Anywhere else?
Bruce: This summer I'll be traveling about saying words to people about stuff; but will also camp for three weeks out in the nature and spend two weeks with my wife in Australia. Tough life, right?
Sarah: Geesh, tell me about it. Okay, so you're listening to music, reading books, watching TV and traveling around. What person might I find you doing any of these things with? 
Bruce: Well, since "person" is relative, if you were to ask any member of our household, while the humans deeply love and appreciate one another, the center of our world is this little gal, Farrah "Fawn" Fawncett.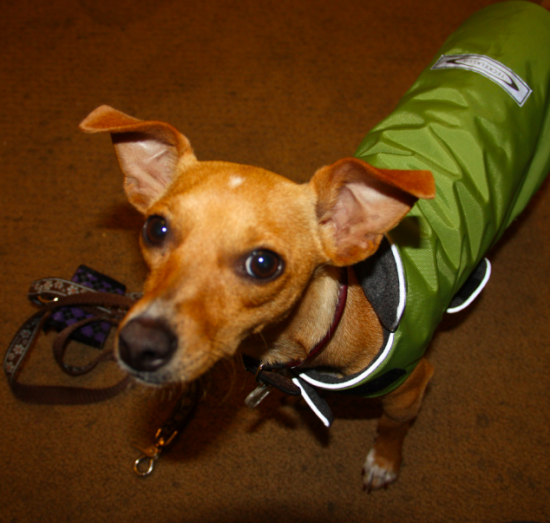 Sarah: I think we'll let the fact that she's wearing a fitted lime green windbreaker say it all. Okay, last question, what might I catch you cooking?
Bruce: I love to cook and have been on a homemade hummus and breakfast smoothie kick as of late. But really, much like the rest of my life and ministry, I start with the foundations of a recipe or basic set of ingredients and then I wander from there. I think I run at about a 80% success/edibility rate.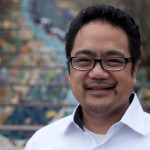 Bruce is a native Northern Californian and 3rd generation Chinese/Filipino. An ordained minister since 1995, he founded the Mission Bay Community Church and in 2008 and has served as Moderator of the 218th General Assembly of the Presbyterian Church (USA). He now earns his keep as a writer, speaker and consultant.
[line]
Tony Jones
Sarah: Alright, we're onto some small talk with Tony Jones now. I know you've had to scale back your reading to begin writing your upcoming book on atonement, Tony. But what books have stuck around even in production mode?

Tony: I just finished listening to the audiobook of Jonathan Franzen's Freedom. Brilliantly written, but tragically sad characters. I'm re-reading The Brothers Karamazov, one of my all-time faves. Plus, I'm in the the middle of Unholy Night and Where Men Win Glory: The Odyssey of Pat Tillman. I have a thing for war memoirs and novels, based on a class I took in college. I subscribe to about 400 blogs, but only skim most of them. I read the newspaper every day — they actually deliver it to my doorstep.
Sarah: Can I confess to being pretty smitten with The Brothers Karamazov myself? And you skim 400 blogs? That is inhuman. Okay, how about this? What are you listening to these days?
Tony: Usually a Pandora station: José Gonzalez when I'm writing, Rush when I'm working out, Styx when I'm mowing the lawn. I also listen to podcasts — my two faves are Homebrewed Christianity Theology Nerd Throwdown and Entitled Opinions from Stanford.
When I'm in the car, either Minnesota Public Radio News, The Current (from MPR), or a Twins broadcast.
Sarah: Theology, philosophy, war, baseball. Can you possibly add TV to this mix?
Tony: Courtney and I are all caught up on House of Cards, Arrested Development, Mad Men, and Breaking Bad — we're awaiting new episodes in all of those. Many friends have said we should watch Friday Night Lights, so I think that's best.
Sarah: And when you're not watching TV with Courtney, you do make a fair share of trips. What's the next destination? Where are you going?
Tony: Usually to the family lake cabin in the central lakes region of Minnesota. Also, I'm going to teach my annual DMin cohort with Fuller Seminary in June — this year on the gorgeous campus of Pepperdine University. And I just booked plane tickets for a honeymoon for Courtney and me. We're finally going to get legally married this fall, now that our gay and lesbian friends can get married in Minnesota.
Sarah: Ahhhh. You can't beat a family lake cabin. And where do you take a girl who now prefers the cool temps of Minneapolis over the tropics? Wait. Don't answer that. You should never give away your honeymoon location. Ever. Let's skip to cooking instead. I know you cook. I'm waiting to sample some pumpkin butter actually. What else is in the oven?

Tony: I cook all the time. I bake at least a loaf of bread every week, the old-fashioned way, with a living yeast that I keep alive in the fridge, made from Swedish yogurt and illegally smuggled into the US. Last week, my daughter and I made cake pops. I make pizza a lot and am attempting to perfect a homemade crust. I brought a bunch of spices home from my trip to Sri Lanka last year, so we eat a lot of curry. We're still using up the pumpkin and squash from last year's garden — it's all pureed in the freezer. I jar pickles and peppers and relishes from the garden. And I've been roasting a lot of meat lately, but it's finally grilling season, so that's next. Always charcoal, never gas.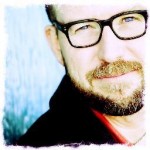 Tony is the author of many books, next of which will be a title on the atonement. Tony is also the theologian-in-residence at Solomon's Porch in Minneapolis and an adjunct professor at Fuller Theological Seminary and at Andover Newton Theological School. He's married, has three kids and live in Minnesota.