I hardly blog at Christmas.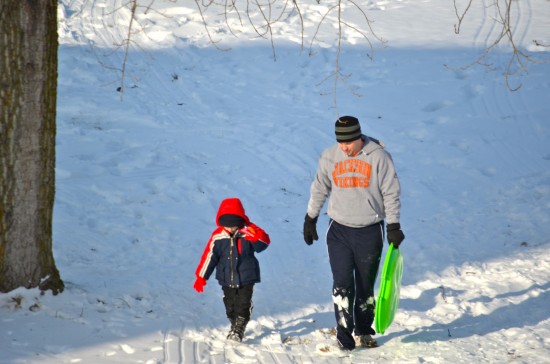 We sled. With our cousins. Down the hill outside the window.
The kids manage to go down… twice. Each time, they beg us to carry them back up, but we force them–like mean parents do–to walk using the two functional legs God gave them. After twenty minutes of prodding, cajoling, and dragging them by one mittened-hand, we manage to reach the top of a hill that should take 30 seconds to climb.
Around this time, the four year old Emperor declares he is done. He declares this, not so much in words, but by removing his boots and wet socks as he crouches in a snow pile. I carry the pink-footed him inside, and we cheer for other sledders as they glide by the kitchen window while we sort marshmallows into rows of hot chocolate cups.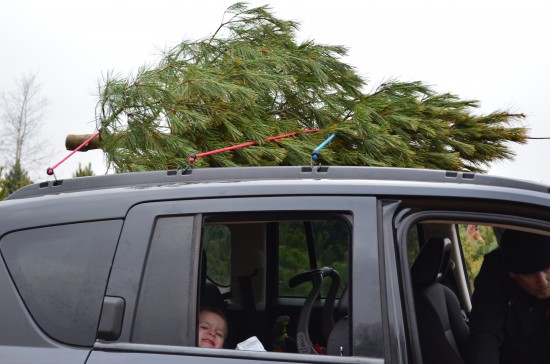 We go tree-hunting. We point to several, one-eye squinting at their heights and widths and various bare spots. We talk about maybe someday getting a super-duper-tall-tree to reach up to our tippy-toe-tall living room ceiling, but then we get too cold to compare and contrast any longer. So we just cut down the nearest and most mangy oblonged-eight-footer right in front of us.
It is a tree of bare spots.
We bake pies. Pumpkin and apple. Peach and cherry. And blackberry. Sometimes we cover every last inch of the kitchen in flour and work our wobbly rolling pin to its near-death to proudly press out our very own homemade crusts. Other times we donate two crisp dollar bills to the grocery store to score the perfectly-stretched crust circles from Pillsbury's freezer section. In either case, the four year old manages to work tiny thumbrint sized holes into each pie top. So we don't bother with knife slits anymore.
We fashion little Rudolph cake pops. Which end up being too spicy for the Emperor and too crumbly for his 16-month-old Chief of Staff. The dog, however, is a big fan. The dog loves reindeer-shaped cake pops, it turns out. So there's a win here somewhere.
We employ the massive architectural and fine motor skills every toddler is born with to smush together a gingerbread house.  I would describe it's style as "disheveled; post-earthquake." We're pretty sure a disaster-relief team of elves have been dispatched.
We decorate using lots of Dollar Store candles. And we manage (so far) not to set fire to anything.
We watch Christmas specials. Everything from the Grinch to the Griswolds. We make kettlecorn and sit under plush, fuzzy blankets with the lights off and Christmas bulb reflections dancing around the wall.
We shovel and snowblow and throw salt. And by we, I mean Chuck. The rest of us just sort of scoot the snow around using over-sized shovels the first time it snows.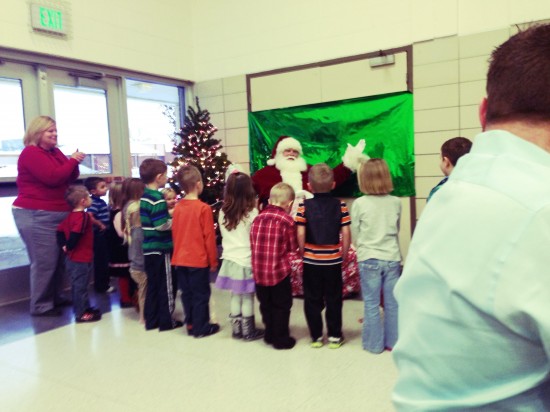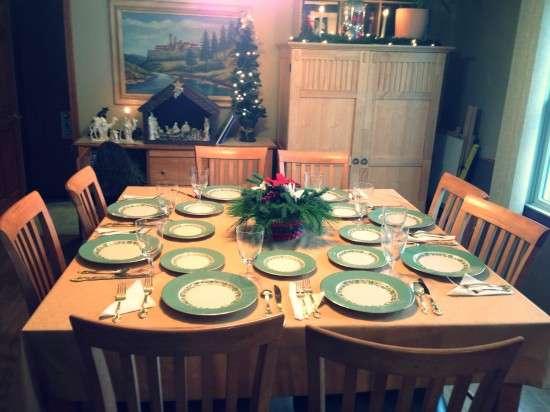 We attend holiday preschool functions where a local teacher is Santa's doppelganger. And there is free pizza and a bouncy-house–both of which arguably have nothing to do with Christmas, but are the best idea ever for a Christmas party with toddlers.
We make hot dishes and cart them over to parties in spilly crockpots, where we are always destined to catch at least one flu bug per season. Then we nap the sickness away.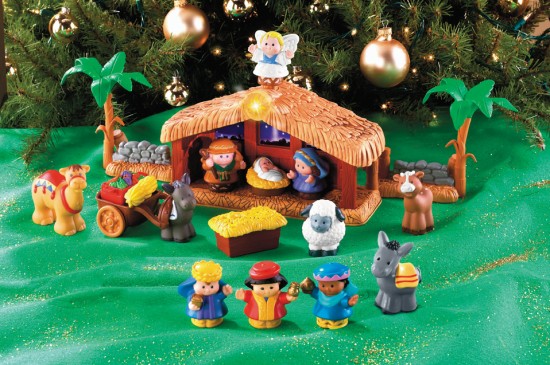 We do our nativity tradition, adding a new figure to the ever-filling plastic stable each day. Our book reached the top of the Amazon holiday lists again this year (you can download it here free for a limited time).
We smile and chatter about it. There are such fun plans for this book in the works for 2014.
We scour the internet and various stores for odd toys that our eccentric oldest child fancies–for tiny lego Ninja turtles, and exactly 5 inch tall plastic Luigis, and fluorescent yellow Mutagen Ooze in which there is hidden a small ordinary turtle pre-Ninja-turtle transformation.
We wrangle plastic toys from their anti-shoplifting boxes where the manufacturers barb-wire them in using a Rubix-cube of twisties, zip ties, and jagged sharp plastic that requires hedge clippers and/or bomb-disarming skills to penetrate.
Then we assemble various playsets, each of which comes with one 4×6 card of instructions written in size 4 font by someone who has never even seen the actual toy. Each of which also come with a minimum of 100 decal stickers all roughly the size of a grain of salt. Thankfully, the four year old Emperor immediately alerts us when we've positioned any 4mm part or sticker incorrectly.
We lose and find, pick up and injuriously step on various billions of pieces included in said toys (repeat 100 times). We literally wrote the manufacturer asking for a replacement missile for the Shellraiser vehicle. These things are important, people.
We force various miniature weapons into tiny ninja turtle hands. Over and over and over again. Because four year olds cannot make their motor functions work that finely, which is something the manufacturer of every single toy in existence somehow doesn't seem to know.
We replace any debit cards rendered extinct by the great Target Credit Massacre of 2013.
We take hundreds of cheesy and nostalgic Christmasey pictures.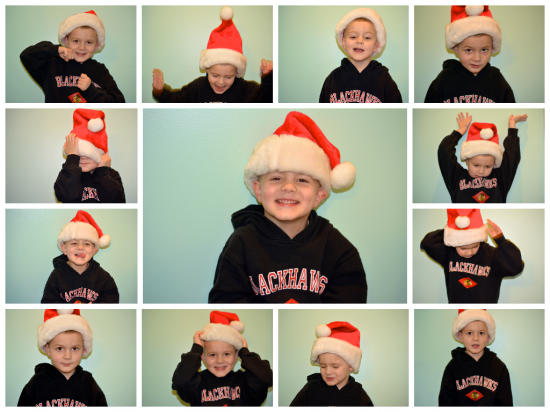 We bake cookies, we bowl, we watch sporting events, we visit family and near-family, we have breakfast with old friends.
We play Christmas music, we dance incessantly, we laugh, we cry, we say No, no, no, those are ornaments; NOT balls.
But, unashamedly, we hardly blog at Christmas.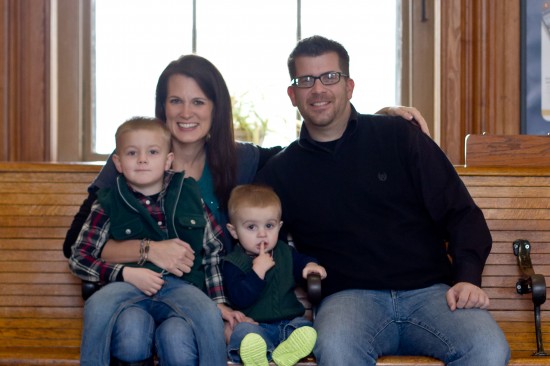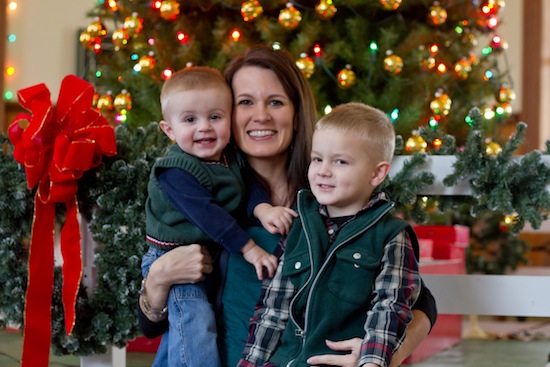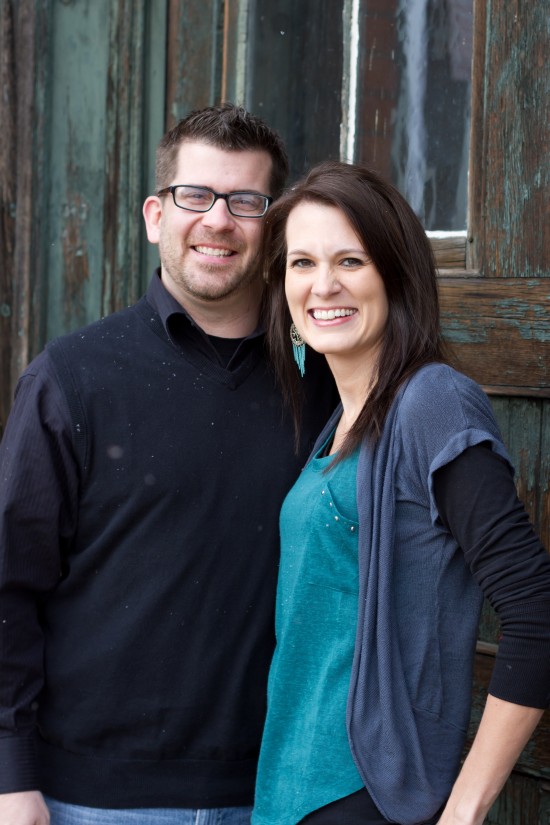 Merry Christmas and Happy New Year from all of us to you and yours!