Introverted Extroverts or Extroverted Introverts
I can never fit myself neatly into one category. Can you?
Sometimes I feel so extroverted. I'm often one of the first people to speak up in a discussion group or team meeting. And with strangers, I'm quick to take initiative–to cross a room to introduce myself or to go out of my way to help other people meet each other.
I prioritize staying socially connected to a wide range of people. And periodically, I like to rally people to gather, to hang out, to do something.
My number one love language is quality time.
Not to mention I am a public speaker, and after a lifetime as an oldest child, pastor's daughter and teacher, I feel at home on most stages.
But…truth be told, I'd enjoy being on a panel or doing a casual Q&A more than I'd enjoy giving a keynote. And organizing events and movements, making things happen behind the scenes, comes even more naturally to me.
Plus…even though I like to be around a lot of people all at once, I am not the life-of-the-party-type. I don't try to claim the center space in the room, I don't tell loud, animated stories or jokes with funny sound effects. I'm way more likely to hole away in a corner talking with one or two people, and then to move to another corner and talk to one or two more, rotating around the room all night.
And I really do have some serious introverted qualities. I could (and do) camp inside my house for days without going out. I like to seclude myself away and get lost in a book. I use the ATM machine so I don't have to go in and make a deposit. I skip voicemails. I wait for the package delivery man to leave the parcel before going out to retrieve it.
I think a lot of us are some mix of the two. We're extroverted introverts, or introverted extroverts. We have seasons of life and moods that bring out some qualities over others.
Even so, I enjoy reading pieces like the one below from Dr.Carmella. It sheds light on my (and your) introverted moments–whether that is a temporary or permanent state of being. And it helps us understand those who identify as fully-introverted most of the time.
Plus it's a cartoon. Beat that.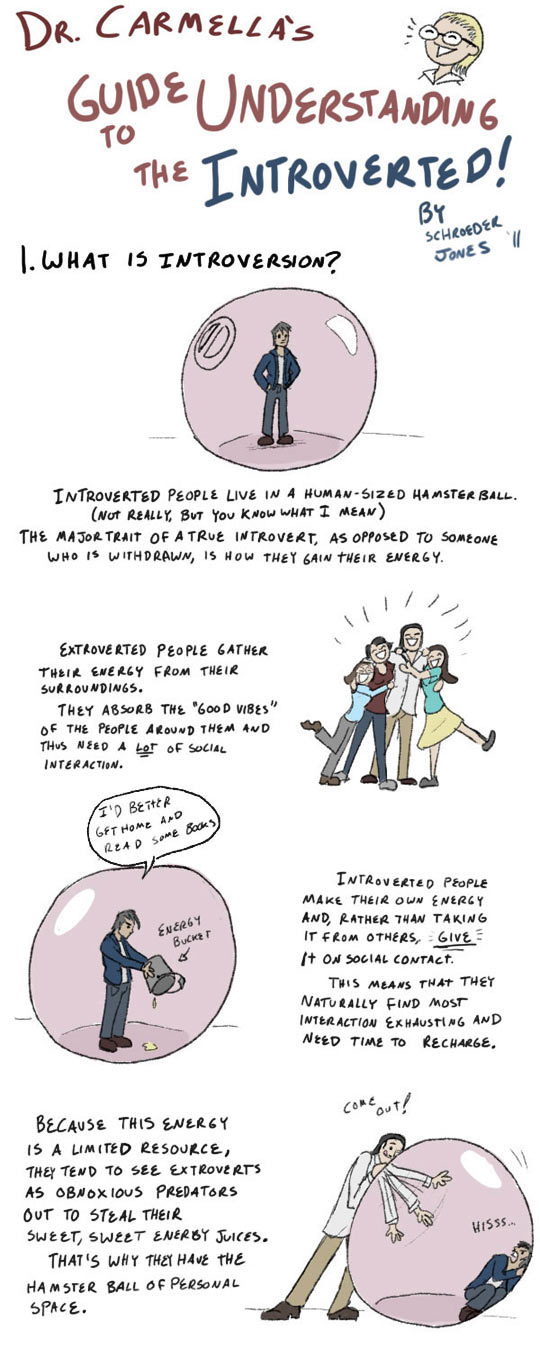 2 Comments
Joanna

January 7, 2014 (9:33 pm)

Love that cartoon!

I'm an introvert with the love language of quality time. What that means in practice for me is that meeting new people or making small talk with people I don't know and/or like well is exhausting, especially if I have to make the introduction. However, put me with people I'm really close to and I will talk till 2am if given the chance.

Dolores

June 13, 2014 (9:09 am)

Today, I went to the beach front with my kids.
I found a sea shell and gave it to my 4 year old daughter and said "You can hear the ocean if you put this to your ear." She
put the shell to her ear and screamed. There was
a hermit crab inside and it pinched her ear.
She never wants to go back! LoL I know this is
entirely off topic but I had to tell someone!