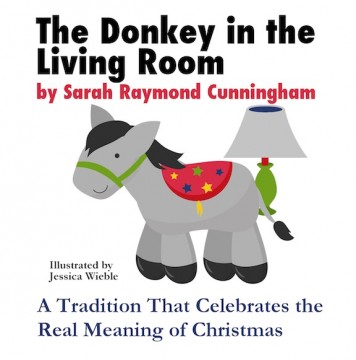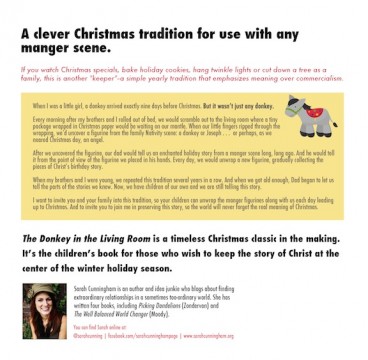 PLEASE NOTE: Although this began as a simple self-publishing title, a new, fully illustrated and more widely distributed version of this book will soon be available through B&H Kids. Although the actual paper books won't be released until 2014, during this 2013 holiday season, B&H Kids will unveil the e-book which you can buy here.
This week I did something I thought I'd would never do.
I wrote and released a children's Christmas book.
On a whim. In one, fleeting nostalgic moment that may end up having more impact than I ever imagined (as I just found out it is already becoming available in the U.S., England, Denmark, France, Estonia, Italy and Japan).
I'll tell you what the book is about, how you can get one, and a way to score an advance copy for just 99 cents for a limited time below.
Elf on the Shelf, Meet Donkey In the Living Room
I was at Target doing some early Christmas shopping when I came across the Elf on the Shelf book.
For those of you who aren't familiar, the book is about one of Santa's elves who monitors children's behavior by day and then flies back to the North Pole to make nightly reports. Every day, when the elf returns, he does his surveillance from a new spot.
I'd seen the book before and have several friends who have given it a whirl. Some people's kids seemed smitten by it, while some were a little creeped out by the feeling of being watched. (Cue bad elf nightmare.)
I, on the other hand, thought it was a clever and fun way to celebrate Christmas.  I immediately thought about purchasing a set for my sons and nieces to look through the day after Christmas.
But I had a slight misgiving.
The holiday is so stinkin' SATURATED with toys. Companies roll out the ads for the latest gizmos earlier and earlier every year, and even the best of kids can get caught up in the spirit of gimme-gimme-gimme.
(I say this as my son screams, Mom, I want that! at a commercial in the background. Really.)
So I had a bit of pause over whether I wanted to start a daily tradition that stressed being good so that, end goal, you get toys.
I was hoping in addition to a peppy elf , there was a go-to tradition that would remind my kids to think past toy accumulation (don't we already have piles of toys in every nook and cranny of our houses?) and spend a few minutes getting excited about the birth of Jesus.
And then it hit me. In one crazy-children's-book-writing moment of inspiration.
My family had a special holiday tradition when we were children. The tradition was so neat, in fact, it had even been included in the advent section of the Mosaic Bible a few years ago. But I'd never tried to capture it for children…until now.
So thank you, Elf on the Shelf. Ideas like this probably best happen as serendipitously as this did.
Meet One Very Snazzy Donkey
Here's what we did as kids.
My mom would individually wrap all the figurines in our family's manger scene.
Every day, my brothers and I would open ONE figure and my dad would proceed to tell us that character's role in the Christmas story. He would tell us the story in the first person, letting the character tell us from his or her own point of view.
So as children, we grew up hearing the Christmas story from a diverse, multi-ethnic, multi-gender cast. We heard Mary talk about the donkey ride (while pregnant!) and cows talk about the upheaval the night the stable turned into a maternity ward.
We opened one figure at a time until we got to the very last and most special story-teller of all, the baby Jesus.
The beautiful thing about it was we couldn't wait for baby Jesus. He was the culmination of it all and we were so, so excited when we finally got to unwrap him.
I've put together a book that helps you carry out this tradition with your own little ones and pass the tradition to nieces, nephews and grandchildren, as well as the children of friends using any manger scene.
The new book, The Donkey In the Living Room, is a collection of whimsical, fun-to-read, first-person poems that tell each character's story from his or her own point of view.
And the first character is the donkey. I chose this stubborn old guy as the starter story and title figure because it captures my purpose in writing. The idea of a snorting, naying, real-life donkey right in your living room says "extraordinary in the ordinary"–which is also a great way to think about Christmas, where the Creator God sent His extraordinary son into our very ordinary world.
How You Can Get It
Because my intention is to inject meaning into the holiday season, inspiring our world's children to hear and enjoy the story that matters most, I'm giving away the e-book for just 99 cents until Friday. You can get the book here for your Kindle. And if you don't have a Kindle device (like me), you can download one of the free Kindle apps for your browser, computer or any mobile device you have.
Or, if you want to do the full, old-fashioned experience where your kids crawl up on your lap just like my brothers and I did when our dad told the story, get the actual book (which will be re-released in 2014). Let's face it, e-books don't do children's books justice.
How You Can Spread It
1. Please tell your friends. Here's a message you can post to Twitter, Facebook, Google+ or Pinterest: Like Elf on the Shelf? Do Christmas w/ meaning w/ @sarahcunning's new children's book, Donkey In the Living Room http://amzn.to/1di1Pkf.

2. Buy the print copy for your own children, nephews or nieces, grandchildren or family friends. Let's make sure this generation knows and always remembers the most important story of all.
3. Leave a review on Amazon so other parents know what this book is about and why it's important to have a meaningful tradition to cut through all the holiday humdrum.
4. Leave a comment on this blog post or email me (sarahraymondcunningham-at-gmail-dot-com). I'd love to hear your thoughts.