$5 Off Your Next Purchase at Amazon (A Brain Dump for Writers)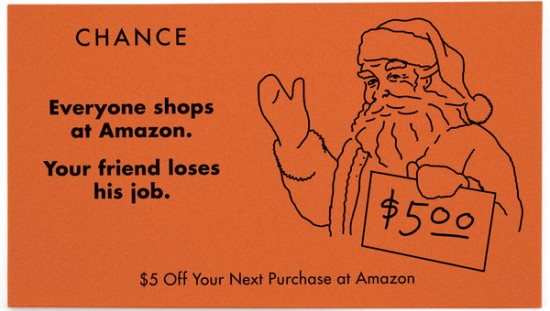 Some ideas about what you deserve as an author. Hint: Don't go in entitled.
And lookie, lookie. Stephen Leather got out of self-publishing after selling half a million e-books. Read on.
Wanting another reason not to self-publish in 2012? Here. you. go.
Or this one: When Self Publishing Goes Wrong.
Just in case you were wondering, hating Amazon is not a strategy. (But don't tell that to the New York Times art department who created the Monopoly-inspired slap in the face to Amazon above.)
Yep, it's sad to be a Jackson-ian.
On a fun note, David Wisehart is proposing a #SampleSunday tweet. You can spread your writing around via Twitter by tacking on this tag.
And we're still building a little community of writers here at sarahcunningham.org. After the new year, I'll be posting more free pdf guides geared toward helping people FINALLY start that book they've been wanting to write. Join here free.