Announcing STORY 2011: Imagine Nation at Story Chicago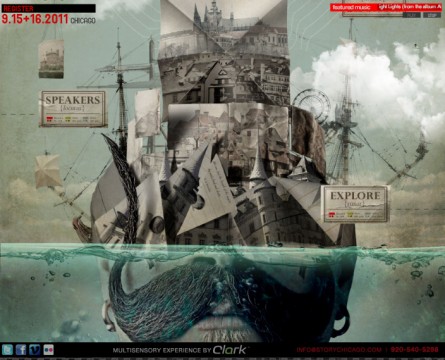 This Year's Theme at the Story Conference
Stunning.
Breath-taking.
Whoa. Beautiful.
Those were the first tweets that hit the feeds this afternoon after we announced the launch of this year's STORY website, designed by Gary Dorsey of Pixel Peach Studios.
When you see the site, which visually captures this year's theme "Imagine Nation", you'll understand why I say…we couldn't be happier.
*Sighhhhhhhhh*
I could look at it for hours.
But a word of caution. Don't get lost in the site too long because there may not be too many days to waste.
Last year, many of you know, STORY 2010 blew us away by selling out two months before the event. We had to pack waiting lists and regretfully, turn away some of our much loved creatives. =( *tear*
While we freed up a few more seats to accommodate our growing audience this year, tickets are already flying off the rack.
So please, come be our guest. Explore the site. Immerse yourself in a taste of what is to come.  And–as early as you can–click through and guarantee your spot among the band of creatives who will be gathering in Chicago this September.
And, let me just whisper one last thing.
*The website is just the beginning.*
We can't wait to see you there.
5 Comments
Amelia

May 2, 2011 (9:21 pm)

Love it! Hope to make it this year!

Sarah Cunningham

May 4, 2011 (6:27 am)

I hope so too Amelia. Would be great to have you!

Amy

May 2, 2011 (11:15 pm)

I love that steampunk inspired design. LOVE. IT.

[…] – Finally, if you're looking for an incredible writer's conference to attend, check out Sarah Cunningham's announcement for Story 2011: Imagine Nation HERE […]

dale

May 26, 2011 (8:28 pm)

btw Sarah …. your Twitter button here in your footer is linked to your LinkedIn page ….. not Twitter. See you tomorrow! Dale