That Day a Black Teenager Saved a KKK Member From an Angry Mob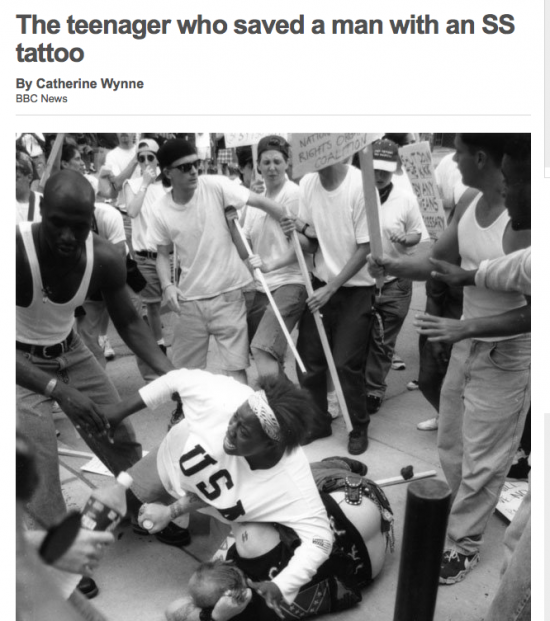 The screenshot above from the BBC news will be burned into my head for life.
Maybe it's because Keshia Thomas, who was 18 at the time this photo was shot, is the same age as me. Or maybe it's because this event happened in my home state of Michigan.
Here's what happened:
Keshia Thomas was 18 when the Ku Klux Klan, the white supremacist organisation, held a rally in her home town in Michigan.

Liberal, progressive and multicultural, Ann Arbor was an unusual place for the KKK to choose, and hundreds of people gathered to show them they were not welcome.

The atmosphere was tense, but controlled. Police dressed in riot gear and armed with tear gas protected a small group of Klansmen in white robes and conical hoods. Thomas was with a group of anti-KKK demonstrators on the other side of a specially-erected fence.

Then a woman with a megaphone shouted, "There's a Klansman in the crowd."

They turned around to see a white, middle-aged man wearing a Confederate flag T-shirt. He tried to walk away from them, but the protesters, including Thomas, followed, "just to chase him out".

…So the teenager, then still at high school, threw herself on top of a man she did not know and shielded him from the blows.
Years have passed since the exceptional, grace-filled moment above fell into history. Maybe the reason I remember it is like I said earlier, that Keshia was 18 the same year I was 18. Or that she was from my home state of Michigan.
But maybe, more likely, I remember it because of her courageous actions.
Or maybe the reason I still to this day hear Keshia's voice yelling out from old newspapers is because after she bravely put herself into harm's way to protect someone who likely hated her, Keshia said this to explain her actions:
"I knew what it was like to be hurt. The many times that that happened, I wish someone would have stood up for me."
And this somehow captures the desires of my heart as well.
We are each a reflection of all the good and bad of where we come from. We carry experiences–positive and negative–with us throughout life. And those memories inform us; they can lead us to or away from the bad that manifests itself around us.
We can choose to repeat the harm done to us. Or we can choose to become people who vanquish harm wherever we can.
Just like I was back in 1996, I am still with Keshia.
Let's be strong and brave enough to not get sucked into hateful cycles.
Let's use our lives to be for others what the world may have sometimes failed to be for us. (Click to tweet that last line.)