Roots AND Wings – The Path to Unblocking Dreams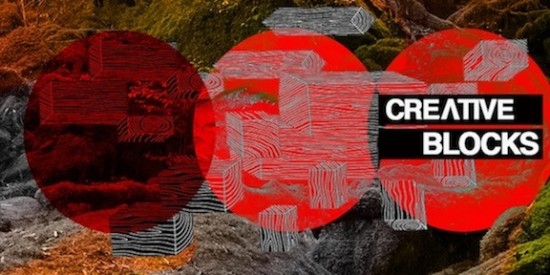 [[Today I'm participating in a Blog Carnival about Creative Blocks. Don't miss the 11 other amazing contributors who wrote on different creative blocks linked at the bottom of this post.]]
There's a poem that says "If I had two wishes, I know what they would be, I'd wish for Roots to cling to, and Wings to set me free"?
The poem was meant to inspire good parenting. But, if you think about it, it's also a genius reflection on the makings of a dream.
ONE SIDED DREAMS GET BLOCKED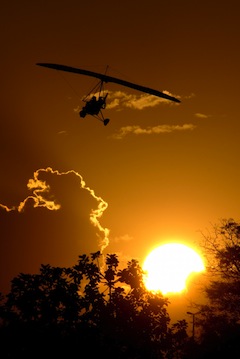 A good dream's gotta have wings.
Ambition.
Inspiration.
A little head-in-the-clouds, save-the-world fuel behind it.
But on wings alone, dreams get lost in the stratosphere. They get sidetracked by lack of funding or disoriented by the dreamer's inability to manage his emotions. On wings alone, dreams get blurred–sometimes so much that the dreamer doesn't even notice that his team is fraying or that important details were dropped fifty miles back. Dreams can have wings and still be flying at mach speeds toward a brick wall.
Hence why dreams also need roots.
Stability.
Grounding.
A little nose-to-the-grindstone, one-foot-in-front-of-the-other determination.
Of course the flip side–roots without wings–is no better. On roots alone, dreams get stuck in the mire of "the way we've always done it" and "tomorrow I'll get to that". Dreams get so sanitized of risk that they go from being "dreams" to "goals" to "what ifs" in a matter of days. On roots alone, dreams move so slow the dreamer doesn't even see them get blocked. The dreams just become inanimate words on a to-do list that gradually slides down into the seat cushions.
ARE YOU A WINGS OR ROOTS PERSON?
In my experience, dreamers tend to lean one way or the other.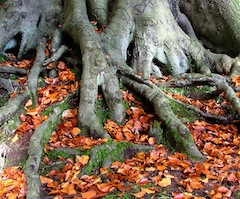 There are Wing People. People who pride themselves in being risk-takers, who get thrills and chills off lining up as many dreams as they can and then going at them like a firing squad. Wing People imagine that every dream must take them far, far away from their pasts, from their current location, from the people they've known and even from the people teamed with them right now. That's part of the adventure, right?
Wing People jump before there is a safety net. And they expect their team to applaud them as they messily build a net in the air on the way down to the crash landing.
Wing People scoff at those who suggest they should look before they leap. They disdain those who advise them to slow down enough to take their team with them. 
These observers don't have the guts to live on the edge like I do, Wing People congratulate themselves. They don't understand the pace I run.
On the other hand, there are Root People. Root People are unwilling to dream if it requires them inching away from what they know—if it impacts their reputation, requires them to quit their jobs, or asks them to relocate geographically.
Root People are the IRS auditors of dreams who can only move forward in scenarios where there is zero risk and guaranteed gain. Which means they never move forward. So even though Root People are great thinkers, they're like the pot-smokers of the dream world: they sit around and opinionate about what's wrong with the world but never actually do anything to change it.
Root People roll their eyes at those who suggest anything impractical. They imagine all the ways an idea could backfire, visualizing the worst case scenario—full of bankruptcies and lawsuits and death by electric chair.
I have a track record of never losing, they brag to themselves. (But they don't realize that means they also have a track record of never doing anything great.)
TESTING DREAMS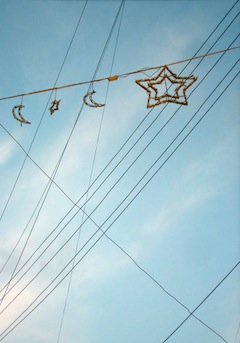 If we want to keep the path of our dreams free of road blocks, we'd be well served to sift new ideas for these two components: roots AND wings. As we pursue those dreams, we might set up checkpoints along the way to ensure we keep an emphasis on both-Am I continuing to give it wings of inspiration? Am I continuing to deepen its roots for the long haul?
The good news is that after dreaming goes wrong a few times, the maturing dreamer tends to find a little balance. They enjoy flying sometimes, speed-racing across the sky and coasting around doing loop de loops on their wings. But they also develop a comfortable swagger on the ground so that their wings don't become tattered or cut their allies to pieces.
HOW THAT LOOKS IN MY WORLD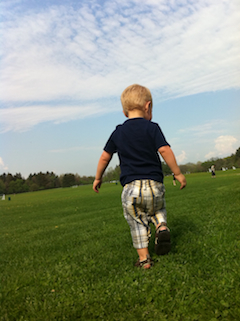 I haven't figured out the perfect balance between these two yet, but as I hack out the middle ground, here's my rules for how to keep my life a good mix of daredevil antics and steady strolling.
I will write books, but I will write them with the awareness that at the end of my life, I will not regret I didn't write more. I will wish for more time with those I loved. And so I write a few less books, but take my two year old son to the park nearly every day.
I will help produce events, but I will produce them with the understanding that people will reflect back on how mentors and friends not events changed their lives.
I will teach at risk teenagers, but I will keep in mind that some of them need one adult who is trustworthy more than they need an ACT score.
I will try my hand in many fields—art, film, you name it—but I will do so knowing that these achievements are canceled out if I fail to be good to the people in my life—my family, my team, my friends.
And the test of good balance between roots and wings, I find, is that at the end of the day—whether you're in the beginning, middle, or end of pursuing your dream, you feel this thing called PEACE.
The proof of a good dream, my friend, is whether you feel like you're living it, not just someday, but right now.
[Note from Sarah: This is part of a blog carnival on different types of creative blocks. Below you will find the rest of the participating bloggers. Click the links to read other posts and feel free to join the discussion " on Twitter using the hash tag #creativeblocks.]
Bryan Allain– Creative Blocks In Blogging

Rachel Held Evans–Writers Block
Keith Jennings–Suffering Creative Block?
Matthew Paul Turner–A Letter To Christianity From Creativity

Mandy Steward–The Block Pays You A Visit
Stephen Brewster-Creative Block In Church Creativity
Sarah Cunningham–Dreaming Blocks
Jeff Goins–Why Creative Blocks Aren't Always Bad
Kyle Reed–Creative Block For 20 Somethings
25 Comments
[…] Sarah Cunningham-Dreaming Blocks […]

Mandy

June 16, 2011 (5:52 am)

"The proof of a good dream, my friend, is whether you feel like you're living it, not just someday, but right now." That's it, right there. Beautiful summary. Beautiful checkpoint. I'm keeping this one around. Thanks!

[…] Sarah Cunningham-Dreaming Blocks […]

[…] Sarah Cunningham-Dreaming Blocks […]

Sarah

June 16, 2011 (7:03 am)

Hey @Mandy, thanks. Isn't it crazy how many times we say "I'll just stretch myself right now" so I can get to my dream–but then realize we've made a lifestyle of living in strain as we wait for "someday" to arrive. :)

[…] Sarah Cunningham-Dreaming Blocks […]

Jeff Goins

June 16, 2011 (7:44 am)

Love this, Sarah. You've touched on a topic that's become a theme in my life for the past 6 months – dreaming.

I'll be honest – for about 25 years I was a wings guy. As I watched other lofty dreamers with their heads entirely in the clouds, I pushed back against that – I decided to be different. So I helped some other people fulfill their dreams by being the "roots". This has been a great exercise for me (my wife has helped me with this, as well), but here's what I found: I was made to dream.

Now, I'm giving myself permission to acknowledge my wings again. As you noted, there's a balance or tension to it that I'm still figuring out how to embrace.

Doug

June 16, 2011 (8:11 am)

Hey Sarah. You put words to what most of us already feel and know. I am curious about your description of wings and roots people, more so in the context of "not taking your team with you." I expected that you would have something to say about how these people on a team can be a help or a hindrance based on the extreme. Or maybe help you to find that balance as a leader…

Sarah

June 16, 2011 (8:12 am)

@Mandy Thanks. :) It's been great to get to know you via this exercise. Good peeps.

@Jeff Seriously… I've been both kinds of people at different stages of life. Trying to find a healthy balance that doesn't swoon too hard or stay too stuck. :) Thanks for relating.

Sarah

June 16, 2011 (8:20 am)

Hey @Doug I think Roots People tend to have a hard time valuing Wings People and vice versa. They just can't understand the opposite perspective. But in working together, I think there is a lot of strength–so we can build ideas that both inspire and last.

Obviously if someone was too stuck on a polar extreme…a team member who was never willing to go all in and take a risk, for example…or a leader who never cared if they outpaced everyone else, it would shut the dream down eventually. :(

So sad that sometimes dreams are right on target. And the worlds need them. But they don't make their mark because we mismanage them. Ya know?

I'm still learning. And I learn a lot from the teams I work with on these fronts and others. Blessed.

Roots and wings images = awesome. I will be returning to them often.

Sarah

June 16, 2011 (8:55 am)

@Rachel Thanks, girl. Appreciate you! Rooting you on…

[…] Sarah Cunningham-Dreaming Blocks […]

Iris E Foss

June 16, 2011 (9:10 am)

Still to this day I am clueless as to what kind of person I am. All I know is that I think gold-silver yet when I write it comes out scribble-scrabble. My garbage is the only one who understands my thoughts. It's like we have a bond or something. Do I make sense?

Sarah

June 16, 2011 (9:27 am)

Haha. @Iris Every writer/communicator feels like that. I can't tell you how many times I think something I've created is brilliant the night I write it…only to wake up the next day and think it's the worst thing I've ever written. :)

Paul

June 16, 2011 (9:39 am)

Love the Wings/Roots idea. As a root, I really appreciate what that might look like for me. The list is already forming.

Thanks for this!

Kyle Reed

June 16, 2011 (9:49 am)

I am living it each and every day.

Thanks for the reminder to just jump

Hi Sarah,

This is a beautiful, beautiful post! Thank you for giving this to us!

Re-read your post, and replace the word "balance" with the word "harmony". I'm a big believer that harmony is a bigger idea than balance, because it captures the tensions in our lives (like the tension between roots & wings).

Are you familiar with Léna Roy? She's an emerging fiction author, whose writing ministry helps teens/young adults. Look her up! What you'll also discover, besides the fact she's nice, is that she's also Madeleine L'Engle's granddaughter.

Sarah

June 16, 2011 (10:01 am)

@Paul @Kyle Thanks. Glad I'm not the only one trying to find a balance between the two. :)

Sarah

June 16, 2011 (10:02 am)

@Keith Interesting thoughts on harmony. I'm definitely a believer in the ability for tension to spur vision. And no, didn't know Lena Roy but saw Madeline L 'Engle a few years back. Brilliant. I'll check her out.

I can be an all or nothing person in too many areas … so I live the thought of roots and wings. Great image!

Also like your points A to D … good balance in each of them!

mpt

June 16, 2011 (12:43 pm)

I love this, Sarah. Your ability to artfully present practical wisdom is beautiful. I think I may go dust off a few of those old dreams I keep filed between the couch cushions.

Thank you for this…

Sarah

June 16, 2011 (2:28 pm)

Thanks @Janet I am just glad you're pursuing your dreams. You're an inspiration, girl. Hands down.

@MPT I love that you're cool enough to go by just initials. Thanks for reaching out. :) Your post wins the funniest award. Your prize is in the seat cushions. Yes. It's that missing stale cheeto next to your forgotten dream.;)

Stephen Lynch

June 17, 2011 (8:13 am)

No love for the roots people. The IRS of dreams? Ouch.

But it hurts because those are, unfortunately, some strikingly similar characteristics I have with ideas. I do believe, however, that our support role as roots people can be positive. We shouldn't try and hinder the wings from flying; we should help direct the wings do where they really want to be.

Love the life applications too. Real relationships are bigger accomplishments than works.

[…] Problem, Not Its SymptomsMandy Steward – The {Creative} Block Pays You A VisitSarah Cunningham – Roots & Wings: The Path to Unblocking DreamsJeff Goins – Why Creative Blocks Aren't Always BadCarlos Whittaker – 5 Ways to Overcome […]